Dalton Cosmetics was created after Doris Dalton was diagnosed with Thyroid cancer. Doris ended up losing most of her eyebrow hair Doris wanted to create a product that looked natural where her eyebrows were missing. After many times of trying to perfect this creation she was able to produce a product that is long lasting, nurtures your skin, and looks natural. With great desire and the demand of her eyebrow cosmetic formula, Doris was innovated to create a line that was an alternative to cosmetic surgery. Over several years of perfecting the formula Doris produced the fresh coat mascara. This mascara is contaminate free and the wiping system allows you to control how much is dispensed so that you get the perfect amount every time. It did not stop there. Dalton cosmetics are now one of the most popular brands on QVC with double digit numbers and growing.

Along with reaching out to the community, Doris is keen on giving back to them. She is also greatly involved with cancer support and research organizations and has given away tens of thousands of Brow fix to woman in need. To benefit breast cancer, Dalton's Pink Shades Hydrating Lip Gloss Trio was created, in which a donation is given to the Breast Cancer Society with each set sold. Doris is a survivor inspiration to many .All Dalton cosmetics proudly bare the cruelty free bunny and comply with all PETA regulations by not testing on animals or working with manufactures that show harm towards animals in any way.
I was given the wonderful opportunity to review Dalton cosmetics and first let me tell you these products are wonderful! I love each and every one of them. I put the eyeliner on as thick as I could so you could see the color and get the idea of what it looks like.


            Dalton Plum Truffle with Champagne Eyeshadow Duo


This eyeliner is the plum eyeliner which I will show you the plum later on. I took the plum eyeshadow and put that over my eyelid and crease. I then used my eyeshadow brush and put the champagne color on the brow area. I blended them both together to create this look. I love how smooth this goes on and it lasts a long time. In addition, this does not cake and it will not crease.

Dalton Airless Cream Eyeliner w/ Dermaflex
                                              Eyeshadow Brush
I first want to tell you how cute these compact cases are that these products come in. When you first open it there is a protective lid that you can see above, opens to the side. Once done just flip it down so it will keep your eyeliner nice. This is the plum color that I used in the above photo. This eyeliner on QVC comes with the Multi-angled brush as well. 
This eyeliner is smudge proof and rich in pigmented color. I found the eyeliner very easy to put on and feels smooth as silk. Make sure to dip your brush on the sides and in the middle and then gently apply in even strokes across the lash line. Just remember you do not want to apply cream eyeliner on your water line as it can cause eye irritation. The dermaflex technology is a formula that is joined with ingredients to give you the flexibility with your skin. It moves with you allowing you to go about your every day business. The eyeshadow brush above is great fro blending on one side and with the pointed end using to get in between the crease of your eyelid.
QVC price $28.50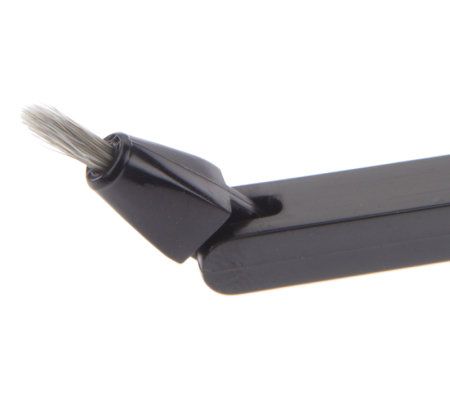 Multi-Angled Brush
This brush is a must have for me! The brush head moves to an angled position allowing you to move across your lash line with ease. The brush is very thin and helps you get real close to the lash line. You can also put the eyeliner below the water line a lot easier using this brush than a thicker bristled one.


              Navy Shimmer Eyeliner
Again, maybe not the best job on applying eyeliner. However, I wanted to apply it thicker so the pictures would come out and you can see the color.


Emerald Green Eyeliner
How does your typical eyeliner work for you after a long day? For me I usually find it smudged across my eyes making it look like someone punched me in the eye. With Dalton cosmetics eyeliner you do not have to worry about that. It is smudge free and with the dermaflex technology it will not set so that you can blink as many times as you want without worry.


Minx eyeliner on the left, Black on the right.


The Minx on the left is a deep brown color. It looks close to a light black shade. In addition, it does have a slight sparkle to the eyeliner. The black eyeliner is a dark black color. Both of these eyeliners would pair nice with almost any palette.

       Dalton Airless Brow Fix & Brow Brush
This brow fix formula is created to put color and add fullness to your brows. This airless brow gel has six vital nutrients that you would need to keep your brows healthy. If you do not have full brows or have brows that are sparse you may want to try this brow gel. To apply make sure your brows are plucked or waxed ahead of time. Next, brush your brows with the brush that comes with the brow gel. It looks like a mascara wand on the one side. Make sure you brush into the arch or have it in the style you want. You only need a little brow gel as it goes a long way. If you add too much it can flake when it dries. Brush the brow gel onto the eyebrow, only doing one at a time. You start at the corner of your eye and brush outward with the grain of the hair. You can brush the eyebrow to re-shape your brows when you are finished. Next, you may want to gently run your finger over your brow to make sure there is no extra gel. At last your brows are finished!
QVC price $28.00

Dalton Tilted Volumizing    Mascara Duo
When it comes to mascara I am picky because my lashes are very short and I always need good mascara that gives me volume and curl. Every mascara I have tried in the past either clumps on me or do not give me the volume and length I need. I never have seen tilting mascara before! This mascara is one of the neatest inventions I have seen. You take the mascara brush out of the tube and on the end is a small dial that you turn and it brings the brush head out to tilt it, like you see above. This will help you achieve the curl you desire while adding volume and length to your lashes. This mascara does not flake or smudge. The photo above with the eyeshadow picture is using this mascara. The one with the eyeliner is not using mascara at all. The eyeliner photos are without mascara. The volume it gave me is huge!
You get 2 Mascaras when you order QVC price (2) $26.82

Dalton Lash Fix Volumizing Mascara Duo w/ Nutra 6 Complex
This mascara I have not really noticed much difference unlike the Dalton tilting mascara. This mascara is supposed to help condition your lashes while giving them a long and full look. It has a quadrangular brush to help nourish while thickening, lengthening, and curling them.
Create volume by coating your lashes with the flat side of the brush. Once applied, using the comb side, start at the base of the lash and wiggle in a zigzag motion to separate and lengthen every lash. Let set for 30 seconds and you are ready to go. This just was not for me but it could work very well for you.
You will receive two Lash Fix mascara with purchase at QVC
QVC price $31.12

Dalton Conceal-It Concealer .42oz.
This concealer helps fine lines; wrinkles, skin imperfections, and uneven skin tone disappear! This is an oil-free, medium-coverage concealer. Use the sponge by lightly patting on any skin imperfections. This will help create a flawless complexion. This concealer comes in various shades. Fair, light, medium, and dark.
QVC price $26.00
My Overall Verdict
These products are fantastic. I love the compacts the cosmetics come in. I have never seen a cosmetic case that has a inside lid that opens up separate. I found it really helps keep your cosmetics nice. Nothing can get inside to ruin your makeup. The quality of the makeup is stellar. In addition, the brushes are very good quality. I washed my brushes and they go right back to the same great quality they were before I washed them.
Like them on Facebook
Follow them on Twitter
Make sure to visit their page at DaltonCosmetics
Disclosure; I received these items for the purpose of a review. All opinions are 100% my own. I was not compensated for this review. Your opinion may vary from mine.